Third-generation liquor and wine store owner Steve Leon brings to you Wine Cellars 4 located on Farmington Avenue in West Hartford, CT. With drive-up parking,
our store
offers quick and easy access to many of your favorite wine, spirits, and beers. Our package store emphasizes product knowledge and personal service. As an affiliate of
Wine CT,
any wine can be ordered on request as long as it is available in Connecticut. For your convenience, we offer
delivery service,
as well as
gift certificates
for that special someone. Check out our
Club 25,
which delivers two bottles of expertly chosen wine to your door twice a month for a low cost. Sign up for the Wine Cellars 4 email newsletter for product updates and sale prices.
Contact us
today to discover why our motto is: "Stop in once and you will be back!"
Sunday Funday!
Open Sundays 10am till 5PM
Upcoming Events - Call for details at 860-677-0130
Calendar of Events
Delivery
Daily delivery - email
SLeon6@comcast.net
or call 860-677-0130.
All deliveries in Hartford County are hand delivered. No charge for most deliveries in West Hartford/Farmington. We ship to most states in the US.
Now delivering wine and cheese baskets, no charge for delivery in our market area, all baskets are delivered personally.
We are happy to match any Connecticut prices.

We work with many Hartford area caterers-City Fare, 2 Marys, Cafe Louise, Rossittos Catering. We supply licensed and insured bartenders as well.
Wine Tasting Schedule
Weekly Wine Specials
Barolo Serradenari 2008
Barolo is a pleasant mid-weight offering laced with dark red cherries, crushed flowers, wild herbs and licorice. It shows good length in a feminine mid-weight style that is typical of this high-altitude part of La Morra.
Priced this week at $29.99 when you mention this email.
Trimbach Pinot Gris
Pale straw with green reflections. Rich and concentrated, with white flower and apricot notes. Delicious with light meals such as salads, poultry, chicken, veal, roast pork, and seafood. The Pinot Blanc has beautiful fruitiness and makes an excellent all-occasion drinking wine.
Priced this week at $14.99 when you mention this email.
Beer Specials this week
Sam Adams and Sierra Nevada 12 Packs are $12.99 this week when you mention this email.
Liquor-Save big $$ with our own labels-Luxus and Satin Vodka, Jose Diego Tequila, Balfour Gin, Coffee and Ameretto Liquours!
Upcoming Wine Tasting Events
January 30th - United Way
February 1st - Exchange Club
Call Steve at 860.677.0130 for tickets & more information.
Max's Lunch Club
Sold-out this month!
Call or e-mail for details of February Club
Where - Max's Oyster Bar
Cost - $35 plus Tax and Gratuity
Multi Course Wine Luncheon meets once a month with a guest speaker.
Different wines presented at each luncheon. Call me at 860.677.0130 for more information.
Did you know we deliver?
Daily delivery - email SLeon6@comcast.netor call 860-677-0130.
All deliveries in Hartford County are hand delivered. No charge for most deliveries in West Hartford/Farmington. We ship to most states in the US.
STAY CONNECTED
[Like us on Facebook]
Copyright © 2013. All Rights Reserved.
Club 25
Products from Connecticut
Onyx Moonshine
is the first moonshine to be produced in Connecticut since prohibition. Our authentic American moonshine is handcrafted in small batches from our very own secret recipe. Extremely smooth and delicious, Onyx Moonshine can be enjoyed:
…on the rocks,
…as an exciting replacement for vodka or whiskey in your favorite cocktails, OR
…to make actual prohibition era cocktails.
Moonshine is a truly American spirit, and while not yet part of mainstream American liquors, it can be extremely high quality and enjoyable.
Enjoying Onyx Moonshine is an experience. It begins with the sweet aroma of honey & apple with spicy wood undertones. Onyx has a delicate flavor with a pillow soft texture giving way to a refreshing hint of botanicals. It rounds out with a full-bodiness and is smooth from start to finish.
Jonathan Edwards 2010 Estate Chardonnay - $22.99
The bright citrus and soft oak on this crisp Estate grown wine is the perfect pairing with your favorite cheese plates or holiday turkey!
Jonathan Edwards 2007 Cabernet Franc - $19.99
Connecticut Cabernet Franc 2007 was a red translucent color with pepper notes on the nose. The taste was of dark fruit with spices. The crisp finish had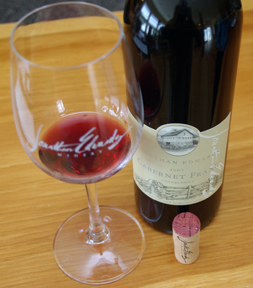 notes of spice and fruit with tannins. Napa Cabernet Sauvignon 2006 was a dark red, sienna color. The aroma and taste had blackberry nuances. The wine finished with tannins and fruit.
Enjoy a visit to Jonathan Edwards Winery. Take a camera for pictures of the picturesque vineyards and stone fences. Visitors are welcome to bring picnic baskets with them.
Contact Us
SLeon6@comcast.net or 860-677-0130